The Van Halen Encyclopedia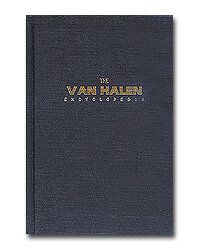 History
The year was 1997 and Van Halen was the only iconic rock band I could imagine that never had a detailed history published in some kind of book. It was bewildering. So, with the help of around 200 like-minded fans, The Van Halen Encyclopedia was born.
It took two years of research, writing and editing, but in 1999 the VHE finally debuted. It had no photos, a simple, black cloth cover and densely packed hundreds of facts into every turn of its 320 pages. Book store managers scratched their heads, but Van Halen fans loved it.
Since then, several books, articles, broadcasts and web sites have had their factual foundations in the VHE.
In 2009, the book (and it's second edition paperback) were officially retired from print.
A Kindle version of the 2001 edition is still available at Amazon.com.
In 2014, the Van Halen Encyclopedia was shared with the Van Halen News Desk and continues to be used in their articles.
It was a labor of love for all involved and a great chapter in my life. Thanks to everyone who bought and added to the VHE!
Reviews
"An extraordinary exploration of the band and its components, this is perfect light reading for all Eddie wannabes while they're waiting for that first batch of finger blisters to heal." – Blender Magazine.
"A must have for all fans! Author C.J. Chilvers has compiled what is easily the most comprehensive gathering of Van Halen-related material since the band's inception, leaving no guitar, unreleased track or significant date unturned." – The Inside Magazine.
"Impeccably researched, The Van Halen Encyclopedia is a true labor of love and is an invaluable reference for the VH fan." – Ken Sharp, The Rock Report.
"I use it non-stop on the air. It is filled with tons of interesting tid-bits that I, being a huge fan myself, enjoy sharing." - Eddie Webb, WLUP-FM, Chicago, IL.
"It is a perfect book to curl up with your favorite songs and relax." – Gene Kelly, The Phoenix, Loyola University.
"For the die-hard fan, this book is as essential as owning all the albums." - Grant Fischer, The Van Halen News Desk.
---