I posted to Twitter a few months ago about how I was cancelling digital cable and going Roku. So, of course, as in all Twitter posts, it led to an interview with US News and World Report.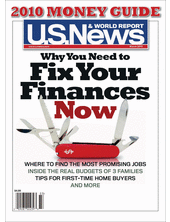 From this month's issue (March 2010), page 36:
A variety of Blu-ray players, flat-panel TVs, and other boxes such as Apple TV also can stream Web video to the living room, "but Roku is the simplest out there right now," says Chicago resident C. J. Chilvers. "It also offers the most diversity."
Cut the cable completely.
Chilvers lives in a condo that doesn't have good over-the-air reception. Otherwise, he says, he would have taken the next step of cutting out cable altogether. Digital broadcasts now offer crystal-clear video and audio with an old-fashioned antenna, including what videophiles claim is an HDTV signal that's sharper than cable or satellite. Cutting the digital tier, or basic cable, altogether can mean the loss of live news and sports that aren't yet available online. But it can also save consumers another $600 a year.
I'm still experimenting with different options, but it's saving me about $50 a month that used to go to Comcast.